Improve the Quality of Life for Aging Pets
 Mobility
Ramps/ stairs - look for those that have textured footing or carpet, so they have traction and won't slip as easily. Pay attention to the degree incline that they will have to climb. You might need a long ramp, so that they can use it.
Yoga mats/ bath mats - you can find these anywhere.
Harness instead of collar - especially if they have neck range of motion issues, or back pain. I like a general nylon one that you can wash, such as: Ruffwear also makes some great ones for exploring dogs.
Helpemup.com harness for mobility dogs who cannot stand up on their own.
WagWellies Mojave Booties: they are silicone which have great traction on the bottom. They have wholes in them to allow the paw to breath, (but I would still take them off at night).
Baby gates/ tension rods: you can use shower rods to make a threshold for your pet, as long as they no longer can jump. Or you can use a baby gate to keep them in or out of a certain area. Ex. Regalo Easy Step 38.5-Inch Wide Walk Thru Baby Gate, Includes 6-Inch Extension Kit, 4 Pack Pressure Mount Kit, 4 Pack Wall Cups and Mounting Kit.
Other
Mega roller with expandable pole-  for getting that pet hair off of their sleeping places and furniture to keep it cleaner for them.
Baskerville Basket muzzle - they can eat, drink, pant with this muzzle on. It is by far my favorite muzzle. You never know how hurt or scared they may be if something happens, and it is easy to train them with treats for this muzzle.
Activity board: something to keep their brain engaged, even if they cannot move around as much.
Petsafe Busy Buddy Twist 'n Treat - This is the best beginner level food toy because you can make it harder or easier depending on how much you twist it. Add a small, favorite treat and let them try to get it out.
Adaptil - This is a calming agent that can be used as a diffuser, sprayed on a bandana or their bed. Dogs may become more anxious when they cannot move as freely on their own or when dementia starts.
Halo Blind dog harness - This is a halo that goes around their head (And bumps into things in their path). It is attached to a harness, which lets the dog know something is in the way.
Cats
Petsafe 5 meal food dispenser - to decrease the amount of time your cat spends asking for food from you. Load it up once and set the frequency.
SureFeed Microchip Pet Feeder - if you have multiple cats or animals. It only allows the correct pet to eat out of the dish.
Feliway - a calming agent for cats (similar to Adaptil for dogs). It also comes in a diffuser to make your home a friendly environment.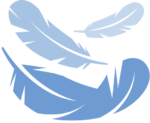 Pet Loss Grief Support Sessions
Every other Wednesday evening, 6:30 to 8 pm
Provided at no charge by Heron's Crossing.