Lauren Smith Cassady, DVM
"I grew up in Birmingham, Alabama, and I always had a cat by my side.  Although I had an interest in medicine during high school and college, I did not know that I wanted to become a vet until my junior year in college. Our cat, Lilly, had escaped from the house and had been in an accident. She was rushed to the vet where her life was saved. That summer, I began working for the doctor who helped Lilly. Through my family's experience and the compassion of Dr. Stark, I realized that pet parents can be healed on an emotional level by veterinarians helping their pets. I knew from that point forward that I wanted to be a veterinarian.
In my career, I have been a general practitioner, emergency vet, and practice owner. The one interaction during all the stages of my career where I feel like I can make the biggest difference in the lives of both pets and their families is during the final days and minutes of a pet's life. When I can ease the suffering of a pet in a way that the family feels at peace with their decision, then I know I have done my job.  I am honored to help families in this unique way."
Lauren Smith Cassady, DVM
BS, Biology, Furman University
DVM,  Auburn University School of Veterinary Medicine
Founding member, Lap of Love - Atlanta. 2014 - 2019
Owner, Heron's Crossing. 2020 to present
"I'm a local -- I grew up in Alpharetta and attended Woodward Academy. I had always wanted a dog, and got my precious Sheltie when I was about 7. I knew I wanted to pursue medicine in some way, but it wasn't until my dog got sick while I was in college that I found veterinary medicine. I saw how compassionate the veterinarians and staff were toward both her and us. I knew that my love of animals and medicine had come together into a career. I graduated from Auburn University, and went on to University of Florida for veterinary school.
I have been helping families for over 5 years with end-of-life care in Atlanta. I am so privileged to be able to guide other families through the process of helping their pets -- whether that is improving their quality of life, or ending their suffering.
Now, I live in the suburbs with my husband (Matthew), Border Collie (Izzy), and tabby cat (Allie). Any chance I get, I visit my friend's horses and bring them carrots and peppermints."
Ashley Payne, DVM
BS Zoology, Auburn University
DVM, University of Florida College of Veterinary Medicine
"I was born in Oklahoma, but grew up in Texas. Animals have always been an extremely important part of my life, and I was definitely the kid that was determined to befriend the horses in the field by our house. I've always loved veterinary medicine, but the thought of euthanasia was difficult for me, until I went through it with my own dog for the first time. It helped me see how euthanasia is an incredibly loving and compassionate thing, and a way we can care for the animals that enrich our lives.
After graduating from veterinary school at Texas A&M, I did a rotating small animal internship before going into emergency medicine. Even on the busiest emergency days, helping a family say goodbye well to a beloved pet is a sacred thing, and I'm honored to be able to help pets and families with what is so often an incredibly difficult time.
James Pendergraft, DVM
BS, Biology, Baylor University
DVM, Texas A & M University College of Veterinary Medicine & Biomedical Sciences
Emergency Veterinarian, 2015 - present
Associate, Heron's Crossing. 2022 - present
Dr. Lauren Smith Cassady explains:
"I have always felt a connection with animals, and they have shown up in my life in important ways.  When I was in vet school, my track coach and mentor from high school passed away.  I was unable to go to her funeral and instead went and spent some time in the woods by a creek.  There was a beautiful heron that stayed with me during that time.
A few years later a much-loved family member was very sick.  When I was driving to work through downtown Lexington, a heron flew overhead.  I thought it was interesting because of the location.  When I was driving home that evening, I saw the heron for a second time, again flying over downtown.  When I got home, I learned my beloved family member had passed away.  From that time on, herons represented peace during times of passings and transition."
We are passionate about pets, as well as with protecting and sustaining our environment. We donate a portion of our proceeds annually to The Audubon Society, Furkids Atlanta, Lifeline Animal Project and Trees Atlanta.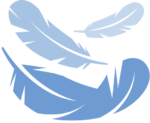 Pet Loss Grief Support Sessions
Every other Wednesday evening, 6:30 to 8 pm
Provided at no charge by Heron's Crossing.